Our global partnership with the University of California Global Health Institute (UCGHI) aims to galvanize a unified force of Black, Indigenous, and People of Color (BIPOC) to collectively address food justice through community education, outreach, and action. Discovering the intersectionality between food, health, and environmental equity is at the forefront of our decision-making and we look to our local, national, and global community members for their unique and shared experiences across these topics.
Upcoming: March 15th, 2023 8am PST: Li Schmidt (Wed March 15th, 2023)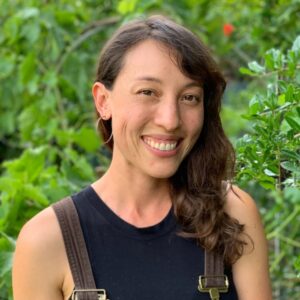 Li Schmidt is a farmer and storyteller based in Sacramento,
CA. As the daughter of an immigrant she has spent her life translating the names of foods she grew up eating and searching for ingredients that were often missing from the local food system. She started Cultural Roots Nursery in 2020 with a mission to heal the connection
between the Asian diaspora and ancestral foodways by increasing the abundance and availability of culturally important heritage plants. By fostering education and empowerment around learning how to grow food, she works to support a food system where all can access culturally relevant foods.