Our global partnership with the University of California Global Health Institute (UCGHI) aims to galvanize a unified force of Black, Indigenous, and People of Color (BIPOC) to collectively address food justice through community education, outreach, and action. Discovering the intersectionality between food, health, and environmental equity is at the forefront of our decision-making and we look to our local, national, and global community members for their unique and shared experiences across these topics.
Upcoming 8 am PST Jan 11th, 2023 (US and Canada), Bernard Singleton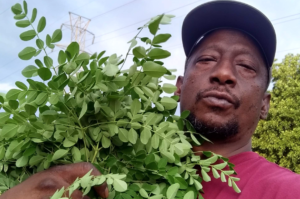 Bernard Singleton, Co-founder of Nebedaye Farms & Bennu Gardens Project, North Carolina. Singleton, being of Gullah decent showcases culturally connected crops such as indigo and rice, as well as elevating Africa's botanical legacy in the Americas through our African Botanical garden. He sees his projects as a way to address food insecurity in local communities by reintroducing culturally connected crops and helping more African Americans reconnect with the land and legacies of our ancestors. Learn more at nebedayefarms.org.